---
Kavalenka, et al. (2012) Ballistic and non-ballistic gas flow through ultrathin nanopores, Nanotechnology 23: 145706.
---
Kavalenka, et al. (2012) Chemical capacitive sensing using ultrathin flexible nanoporous electrodes, Sensors & Actuators B: Chemical, 162: 22-26
---
Snyder, et al. (2011) A theoretical and experimental analysis of molecular separations by diffusion through ultrathin nanoporous membranes J. Mem. Sci. 369:119-129
---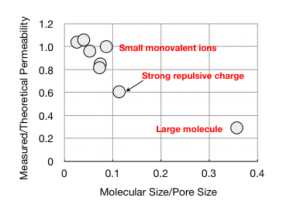 Ishimatsu et al. (2010) Ion-Selective Permeability of UltrathinNanopore silicon Membrane as Studied Using Nanofabricated Micropipet Probes. Analytical Chemistry 82:7127-7134
Shigeru Amemiya's laboratory at the University of Pittsburgh used a highly senstitive electrochemical probe to measure small ion diffusion through pnc-Si without interference from stagnant layers. The paper demonstrates that pnc-Si membranes have a permeability to small monovalent ions (< 1/10th of pore size) that is predictable from membrane geometry alone. By contrast, multivalent and/or large (>30% of pore size) ions experience hindrance from steric and electrostatic effects.
---
Fang et al. (2010) Pore Size Control of Ultra-thin Silicon Membranes by Rapid Thermal Carbonization Nano Letters 10:3904-3908
This paper reports a new method for carbon deposition on silicon that results in the growth of graphene layers inside of the pores of pnc-Si. Very precise control (~ nm resolution) of pore sizes is obtainable by the technique. Interestingly the modified membranes do not exhibit enhanced water flow despite similarities to carbon nanotube membranes that are known to exhibit enhanced flow. The manuscript also demonstrates that carbonized membranes exhibit high resolution separations and high hydraulic permeabilities as seen with unmodified pnc-Si in Gaborski et al.
---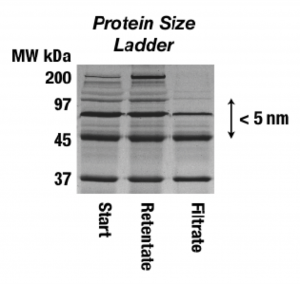 Gaborski et al. (2010) High performance separation of nanoparticles using ultrathin pnc-Si membranes ACS Nano 4:6973-6981
This paper reports the extraordinary hydraulic permeabilty of pnc-Si membranes and illustrates that water flow rates are consistent with the predictions of classic fluid theory. The manuscript also demonstrates the ability of pnc-Si to separate nanoparticles, including proteins, with better than 5 nm resolution and with little loss or dilution of the filtrate. The work establishes the capacity of pnc-Si membranes to serve as dead-end filters for the high resolution, low loss separation of nanomaterials.
---
Agrawal et al. (2010). Porous nanocrystalline silicon membranes as highly permeable and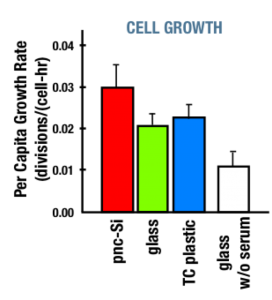 molecularly thin substrates for cell culture Biomaterials 31:5408-5417
In this work we measure cell growth, adhesion and viability on pnc-Si and compare the values to standard cell culture substrates. Results show that pnc-Si has no detrimental effects on cells and actually enhances growth rates for some cell types. The manuscript also demonstrates pnc-Si dissolves in biological media in a non-toxic fashion at rates that can be controlled through surface treatments. The work establishes the viability of pnc-Si as a new platform for cell culture and tissue engineering.
---
Kim et al. (2008) A Structure-Permeability Relationship of Ultrathin Nanoporous Silicon Membrane: A Comparison with the Nuclear Envelope J. Am. Chem. Soc. 130:4230-4231.
---
Striemer, et al. (2007) Charge- and size-based separation of macromolecules using ultrathin silicon membranes. 2007 Nature. 445:749-753.