When we coat surfaces or particles with proteins we often wonder, 'how long until the coating is done? ' In this 2009 paper we addressed the question directly. We soaked 100 nm polystyrene particles in 10% serum (about 6 mg/ml protein) for different periods of time, washed the particles to remove unbound protein, soluablized the bound protein by suspending the particles in sample buffer, displayed the protein samples on SDS PAGE, stained the gel and quantified. Here is what we found …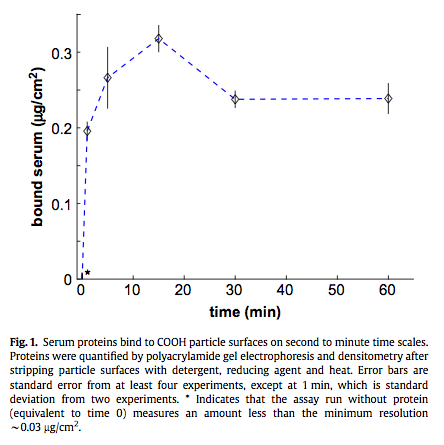 The overshoot is real as we saw it every time and found some explanation in the literature. In short the early phase is dominated by the fast on rate. The slower off rate comes on-line later and lowers the binding level at equilibrium. The fact that these dynamics are seen is evidence that there is at least some fraction of protein that experiences reversible binding to the surface.
The take home is that the binding is fast (mostly done in 10 minutes) and seems to reach equilibrium in about 30 minutes. Different surfaces and different proteins will give slightly different results. Incubating for an hour seems like a good rule of thumb.